Discussion Starter
·
#1
·
Just as a background on me: I'm a 19 year old Infantry(0311) Marine. I have always admired the 1911 platform, and have built a GI style in the past using parts from every war the United States used the sidearm in. I will be taking CNC/CAD courses the year, and I hope to start building my own slides and frames, but for now I want to complete this build that I'm calling "the Shepard", as I am building it for carry purpose. The Shepard is a reference to Lt. Col Grossman's concept of the sheepdog, sheep, and the wolves.
Here's my latest build. I personally fit the slide and frame, as well as every part on the pistol. Here's the list of current parts. All stainless steel:
-Caspian Slide with front serrations and Novak sight cuts
-Foster Recon frame with had formed trigger guard
-Ed Brown match grade barrel and bushing
-Ed Brown match grade 3 hole trigger
-Ed Brown sear
-Wilson Combat extended bulletproof thumb safety
-Wilson Combat extended bulletproof slide stop
-Wilson Combat commander style hammer
-Wilson Combat pin set
-Fusion hammer strut
-Fusion screw bushings
-Peanut grips
I plan to pick up a 2 piece guide rod, Ed Brown extended mag catch, and a combination magwell/msh. I'm open to suggestions on sights.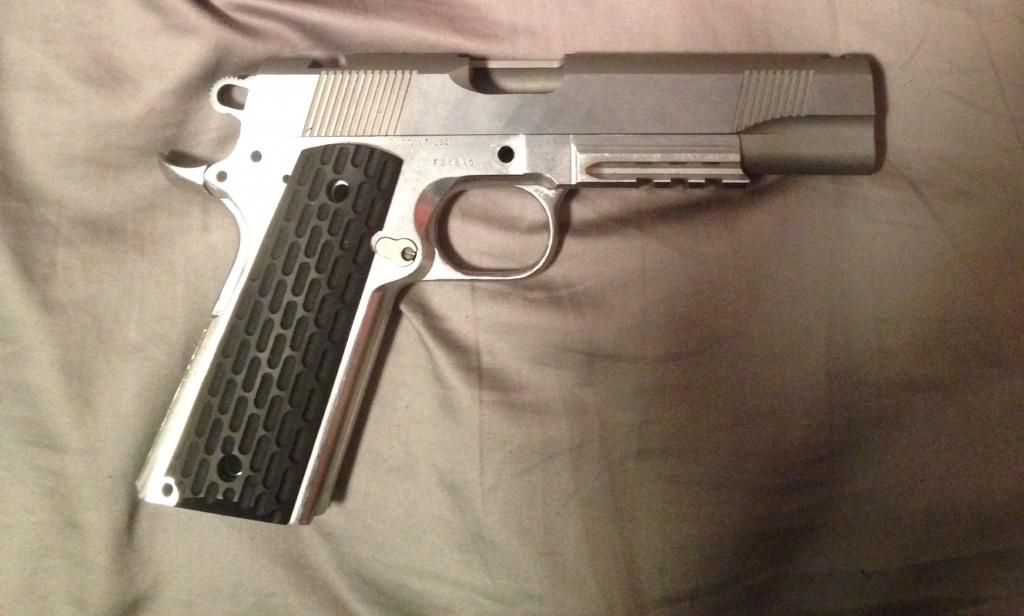 I will be updating the thread as I continue the build with pictures and some videos. I'm more than open to suggestions from the pistolsmiths that are members of the forum.
Thanks