Discussion Starter
·
#1
·
Here are some pics of an Operator I just finished for a forum member (dunno which one though!). The customer has very large hooks and so wanted an S&A magwell for its added length. I usually don't care much for these because of the loose fit and poor definition, but when you must have one they can be worked into something decent. This particular 1911 feels and looks BIG, making it seem somehow more potent... or maybe it's just me. It has many of the de rigueur aftermarket parts, all high-end stuff as spec'd by the client. A very non-inclusive list of features:
-Heinie sights, with a little further corner-busting.
-Frontstrap checkered 20 LPI to match S&A magwell, with a slightly different profile
to maximize girth: not a simple radius on the frontstrap, but a large radius blending to smaller radii where the frame sides meet the frontstrap radius.
-Front end styled-up to make it more holster and user friendly, also to add lead-in for quick light installation onto the rail.
-Surefire light (not shown) was lightly modified as it did not interface with the Operator's rail. Used a Dawson latch (modified) and heat-staked the pivot pin in.
-Light rail lugs are ramped (along with light latch) for one-way push-on installation of the light, no need to actuate the latch, just jam it on.
-This gun was pretty nice out of the box, but we switched to a Wilson beavertail as the original from Springfield, while nicely fitted, was of the cored-out type, so making a higher grip would have meant breaking through into this coring.
-Sharpened up the S&A magwell's checkering
and opened it up condsiderably, after tightening it up to get the typical wobble out of it.
-Those MD grips are pretty nice, customer sent them. I blended them to match the outer radius of the S&A magwell.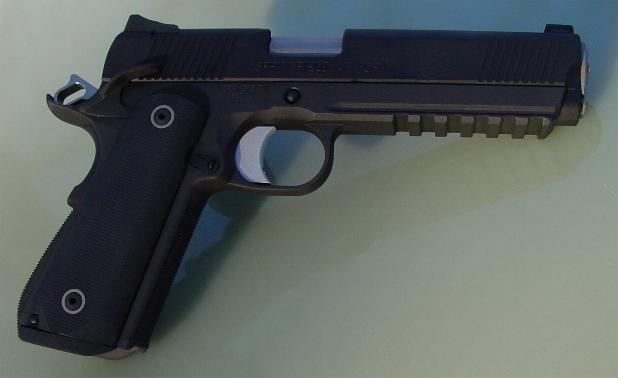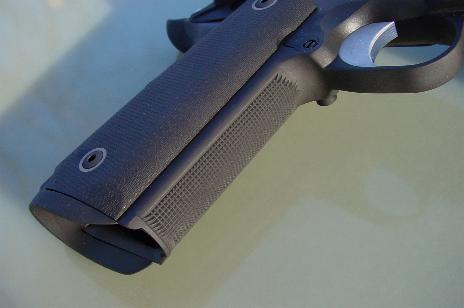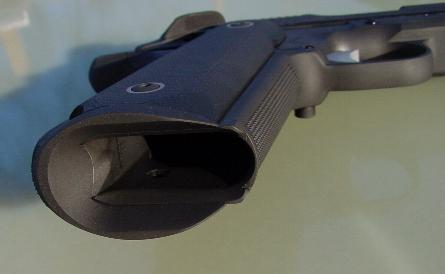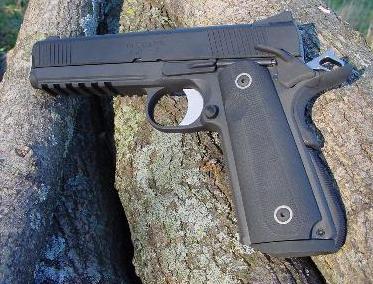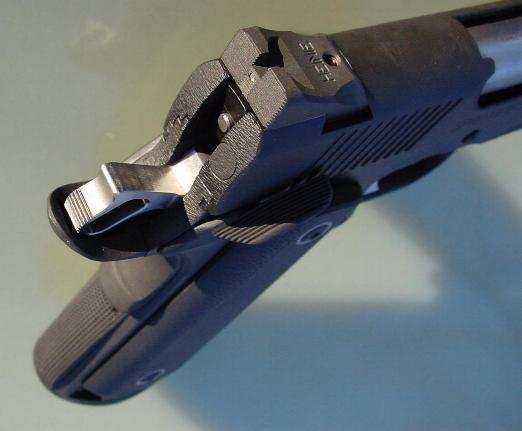 ....edited to repost the pictures after the Photpoint rug-out-from-under trick #2. More pics of it on my site, at
http://www.m-guns.com/gallery.html
<font size=-1>[ This Message was edited by: Ned Christiansen on 2002-01-20 13:16 ]</font>
<font size=-1>[ This Message was edited by: Ned Christiansen on 2002-01-22 09:24 ]</font>